The following areas of specialization with the listed courses are offered through any of the schools we recommend. Similar courses may be taken at any other school approved by AACT. Continuing education is offered to help meet the requirements for annual certification in AACT or other Counseling and Therapy Associations.
Christocentric Redirectional Intervention
Christocentric Redirectional Intervention is a method of counseling offered by AACT through Seminars and Examination. This will be taught in major cities by Dr. Gary Barkman or other qualified professors. The qualified Student will receive a certificate that certifies one in Christocentric Redirectional Intervention. Tuition Costs are dependent on location of each Seminar.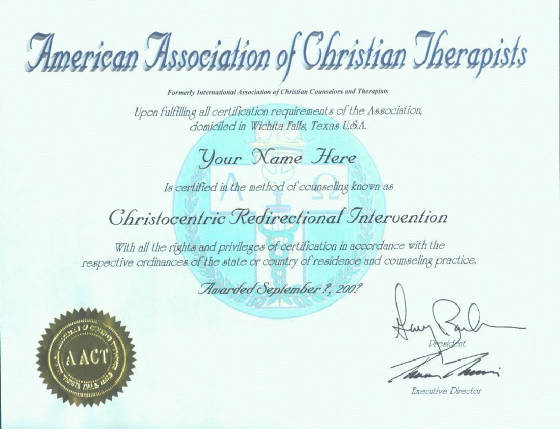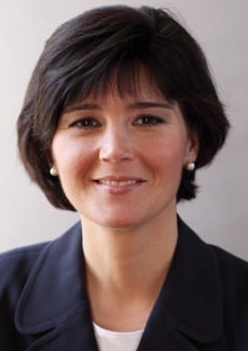 Persons who complete all courses in one area will be given a Certificate of Completion for specialized counseling and therapy. All courses, including those offered for certification and those for Continuing Education, are $45.00 each per semester / credit hour. Additional costs may be incurred if audio or video tapes are selected.
CRISIS AND ABUSE THERAPY

Counseling the Depressed II DCT 551 3 credits
Counseling the Suicidal/Teen Suicide
DCT 552 3 credits
Spiritual Gifts in Crisis Counseling DCT 553 3 credits
Abuse Therapy DCT 555 3 credits
Using the DSM (IV) II DCT 556 4 Credits


FAMILY RELATIONSHIP THERAPY
Family Systems Therapy DCT 571 3 credits
Family and Marriage Counseling DCT 572 3 credits
Divorce, Remarriage &Blended Family DCT 573 3 credits
Sexual Dysfunction & Abuse DCT 574 3 credits
Using the DSM (IV) II DCT 556 4 credits


ADOLESCENT COUNSELING AND THERAPY
Counseling of Children DCT 650 3 credits
Counseling the Adolescent DCT 651 3 credits
Chemical Dependency & Addiction DCT 652 3 credits
Anger Management DCT 653 3 credits
Using the DSM (IV) II DCT 556 4 credits
Each course is 3 Semester/Credit hours